A tankless water heater is a water heater that heats water on demand. Unlike a standard water heater that uses a tank to hold a large volume of water, which is heated all at once and released from the tank when hot water is required, a tankless water heater heats only the amount of water needed when it is actually needed. It will produce hot water in response to when it is in demand. Homeowners can choose between gas tankless water heaters (that use either natural gas or propane) or an electric model that simply plugs into your homes electricity.
Pros of a tankless water heater:
Saves Money
Tankless water heaters save money by reducing energy costs and improving efficiency. When you use less energy, your utility bills are lower. This can be very attractive to potential buyers of new homes. They can prevent standby energy losses and eliminate the need for a standing pilot light.
Energy Efficient
Tankless water heaters save energy in a number of ways. For one, they only heat the water that is actually needed. By eliminating the standby losses in a standard heater, tankless units achieve savings on electric bills of up to 30%. This is particularly advantageous for homes with hot water needs above 12 gallons per minute (gpm), which may require larger electrical service mains and/or wire sizes. Also, because tankless units do not store hot water that is wasted as it heats up to the temperature necessary to meet demand, they save on energy costs associated with heating and reheating water in storage tanks (not to mention the cost of using and replacing failed heaters).
Saves Space
Tankless water heaters save space because they do not have a tank and because they heat water only when it is needed. They can be installed in a smaller location and closer to where it will be used. Typically, tank style water heaters are located in the garage or an attic area. When less space is available it can affect the installation costs as well. Traditional tank style water heaters can require space about the size of a washing machine. However, a new tankless water heater might only require less than half that amount of space.
Hot Water Supply
Tankless water heaters create an endless supply of hot water flow. For homes with multiple bathrooms, this saves time and gives the option to turn off water heaters in some bathrooms. Tankless water heaters provide this continuous supply of heated water with a consistent water temperature. This on demand water usage provides a constant supply and steady flow rate while it saves energy.
Upgraded Appearance
Tankless water heaters make a home more attractive because they do not have large tank structures protruding from the wall. This is especially important in smaller homes, which are limited in space and cannot accommodate the extra size of a tank water heater.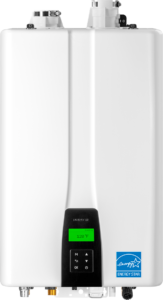 Reduced Noise
Tankless water heaters are relatively quiet because they eliminate noise associated with the cycling on/off of gas or electric elements that power standard hot water storage tanks.
Longer Life Expectancy
Tankless water heaters do not have so store water like traditional tank water heaters. Most tankless water heaters are projected to last over 20 years (some even have 25 year warranties) while traditional tank water heaters are only projected to last 10-15 years.
Cons of a tankless water heater:
Limited Hot Water for Multiple Outlets
If you do not have the right professional plumbers size the installation of you tankless water heater, the system may struggle to provide hot water to multiple outlets at the same time. The hot water heater solution must be properly sized and configured to provide non-stop hot water (sometimes requiring multiple units).
Power Outage
Even gas water heaters require electricity so if the power goes out gas units will stop heating water instantly. If your area has a lot of outages you will only have cold water.
Upfront Costs
A tankless water heater typically costs more up front than traditional tank heaters. How much energy you use and how much hot water you need will help determine the amount of time it will take to recover the up front investment.
Cost Per Unit
Gas tankless water heaters typically cost more per unit than electric models.
Installation
Genzel Plumbing is one of the best plumbers in Mckinney and the surrounding areas of Plano, Allen, Frisco. We specialize in hot water heater installation and inspection services. We have installed tankless water heaters in homes from Dallas to Prosper to Anna. We take care of permits or modifications and will help you estimate space savings. We can look at your home and estimate how many units are required to provide enough hot water that it become endless hot water for every shower, bathroom and washing machine in your home.
Maintenance and Care
Tankless water heaters require maintenance once a year. These units require flushing and filter changes, similar to a self-cleaning oven. In addition, tankless water heaters receive preventive maintenance from the factory annually or semi-annually.
Inspections: Annual inspections are recommended to prevent corrosion before problems occurring in the hot water heater. This inspection can save you a lot of money.
Contact us at Genzel Plumbing at 972-238-5585.
Warranty
Tankless water heaters can last twice as long as traditional tank models. You can find 25 year warranties and traditional tank models might only last 5-10 years.
Top Brands
It's important to look at the length of the warranty, energy star and energy efficiency and look at the reputation of the manufacturer. The following are great example of brands we recommend:
Summary and Conclusion:
Tankless water heaters look better, save space, provide non-stop instant hot water and save energy and money.
Call Genzel Plumbing today for help with any tankless water heater needs. We are your local family owned and operated plumbers in Mckinney, Plano, Allen and surrounding areas.